Do you feel that chill in the air? I know I do. Even here in the Arizona desert, the temps are dropping, which is why we want you to bundle up with us!
Ditch the winter coat and stay warm by the fire because we've got the perfect bundle to help keep you cozy all season long. Grab our Holiday Bundle* that includes seasonal products best enjoyed this special time of year. Available for a limited time, if you order a Holiday Bundle, here's what you get:
IsaDelight Variety Pack.
SeasonsJoy Essential Oil Blend.
Salted Caramel IsaLean Shake.
Vanilla Cranberry Almond IsaLean Bar.
Raspberry Cheesecake IsaLean Shake.
Remember when you were younger and your mom would always say "Bundle up, sweetie. It's good for you!" (Or was that just my mom?)
Well, the same sentiments apply to this incredible Holiday Bundle. Get it while you can; what have you got to lose? Everything in the bundle is good for you (and mom, too)!
The Most Wonderful Time of Year Is Here (*Cue the Music*)
This may be hard to believe, but trust me when I say…The holidays are right around the corner! Yep, that's right — it's the season of joy and giving. If you're anything like me, that should put all the little fluttery butterflies in your belly, a smile on your face, and a little extra pep(permint) in your step (see what I did there?).
On the other hand, this notorious time of year could also have you shakin' in your snow boots. We totally get it. The stress from the busy schedules, and commitment to host family (and in-laws…oh, my) — it's a lot!
But, don't worry anymore because we just launched the Healthy Giving Guide on IsagenixLive

, and it's a one-stop shop for all your holiday shopping this season. Didn't catch the livestream? No problem, you can watch the replay here and catch up on all the goodness we shared! This is the season of sharing after all.
1+1+1=AWESOME
We've launched not one, not two, but THREE new products in our Healthy Giving Guide, and trust me when I say they are SO good!
Salted Caramel IsaLean Shake is this season's newest flavor. It's full of the same quality protein and balanced nutrition that you'd expect from any of our shakes; only this flavor will have you dreaming of the cozy comforts you can only experience this time of year! A delicate, delicious combination of sweet and salty caramel that's sure to hit your sweet spot minus all the guilt.  Sign me up!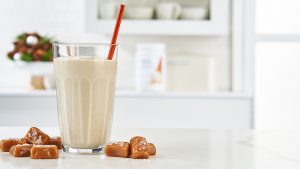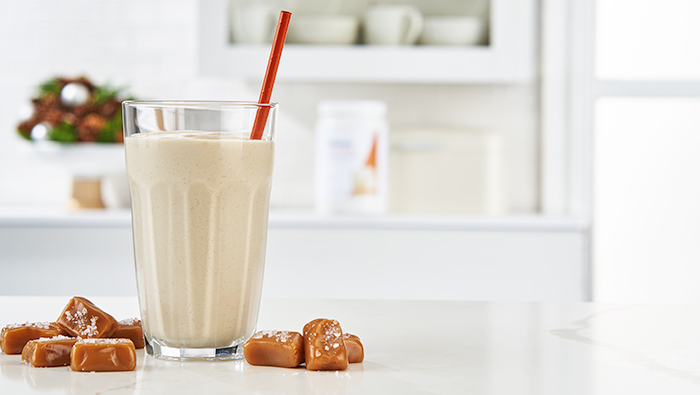 If you or anyone you know is looking for the perfect balance of convenience and flavor, this is the perfect gift for them.
Sounds amazing, right? (I'm always right, just ask my husband.)
But, that's not all this Healthy Giving Guide has to offer…
We've also just launched a brand-NEW essential oil blend that's never been available before, until now, called SeasonsJoy. Feeling cheerful yet? You should because this proprietary blend will elevate your senses with notes of Siberian fir, black spruce, orange, nutmeg, and cinnamon leaf essential oils. You can enjoy this delightful blend topically or diffuse it for all your friends and family to enjoy at holiday gatherings.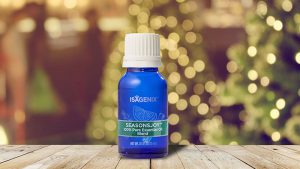 Last but never least is our IsaDelight Variety Pack. Any chocolate lovers out there? We thought so…
This preboxed pack doesn't need any wrapping, because honestly, these guilt-free favorites won't last long in any household. Available in four delectable flavors:
Milk Chocolate.
Milk Chocolate With Sea Salt and Caramel flavor.
Dark Chocolate.
Dark Chocolate With Mint flavor.
Don't Be a Last-Minute Shopper!
With amazing promotions, and exclusive product offerings like the ones I mentioned above, it'd probably be best to start your shopping sooner than later. We've done most of the work for you, so you have no excuses! Here's why our guide is your holiday lifeline:
It's completely digital so you can shop from your phone or mobile device!
Beat the crowds! No mad dashes to the store or long lines.
Spread health this season, the gift that keeps on giving.
Building your business? The digital design makes it quick and easy to share from wherever you are.
As a busy working mom, I completely relate to how stressful and demanding shopping for the holidays can be. But, it doesn't have to be anymore.
Tools like the Healthy Giving Guide were designed for people just like you and me! I always have my family and closest friends on my mind, especially this time of year. That's why I'm committed to keeping them not just happy but healthy as well, and this giving guide can help me do precisely that.
Will you join me and commit to keeping your family and friends happy and healthy, too? If so, do me a favor and check out this incredible gift Isagenix has given to all of us. You'll like what you see.
*To purchase the Holiday Bundle, visit your Back Office or become a Member today.
The post Are You Bundled Up? Stay Warm With the Healthy Giving Guide appeared first on Isagenix News – IsaFYI.com.
Source: IsaFYI.com