What's in the NEW AMPED Next-Level Pack?
---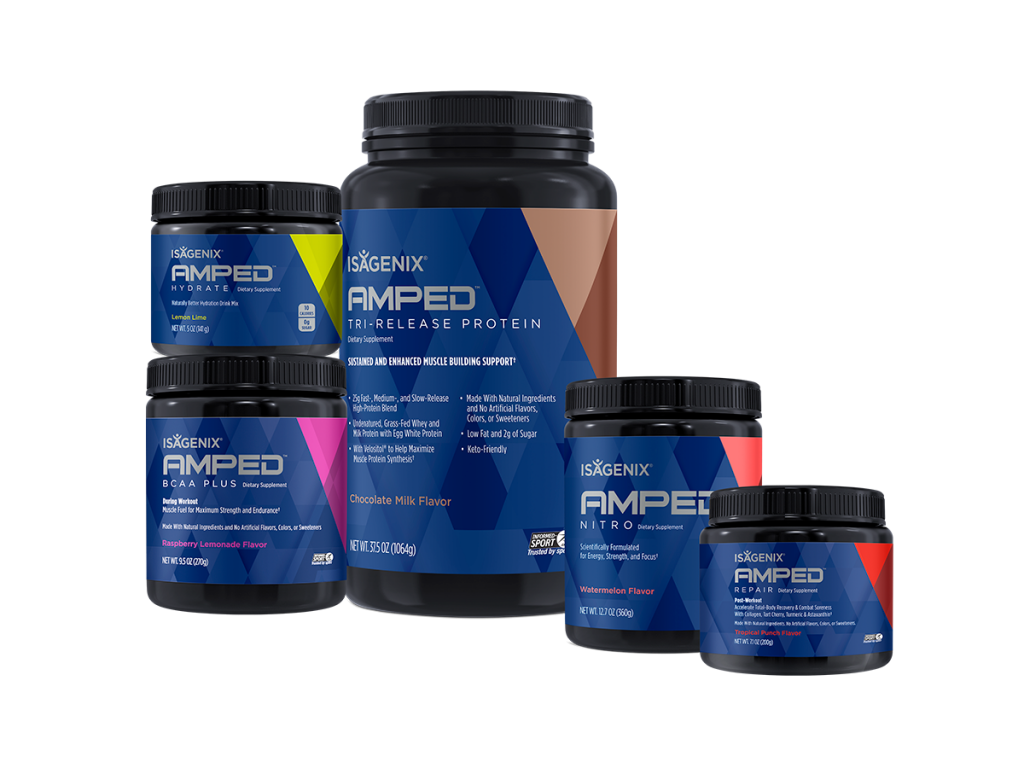 AMPED Tri-Release Protein
An advanced 25-gram three-protein blend to help you develop lean muscle, enhance strength, and reduce recovery time.*
Whey protein isolate, egg white protein, and milk protein concentrate to work together for a sustained amino acid release.
Velositol®§, combined with a protein blend, to help you develop lean muscle to get more out of your workouts.*
AMPED Nitro
Nitrosigine®§ and L-citrulline for increased blood flow, mental focus, and pump.*
Creatine and betaine for increased muscle power, strength, and cell hydration.*
Beta-alanine, taurine, and naturally sourced caffeine for increased energy, alertness, and stamina.*
AMPED BCAA Plus
Leucine, isoleucine, and valine to stimulate muscle protein synthesis and fuel muscles during a workout.*
L-carnitine and L-glutamine to help burn fat during exercise.*
Sustains performance and boosts lean muscle development.*
AMPED Repair
Post-workout supplement that helps boost recovery, repair muscles, reduce soreness.*
Supports better joint health during workouts.*
High-potency tart cherry, turmeric, astaxanthin, and specialized collagen peptides.
AMPED Hydrate
Electrolytes to replenish what's lost during physical activity.*
Vitamins and minerals including zinc, antioxidant vitamin C, and vitamin B complex.
Superfruit blend including coconut water powder, mango, banana, and ginger root.
§ Nitrosigine® and Velositol® are registered trademarks of Nutrition 21, LLC and are patent protected.
* These statements have not been evaluated by the Food and Drug Administration. These products are not intended to diagnose, treat, cure, or prevent any disease.