What's Inside Your Pack
---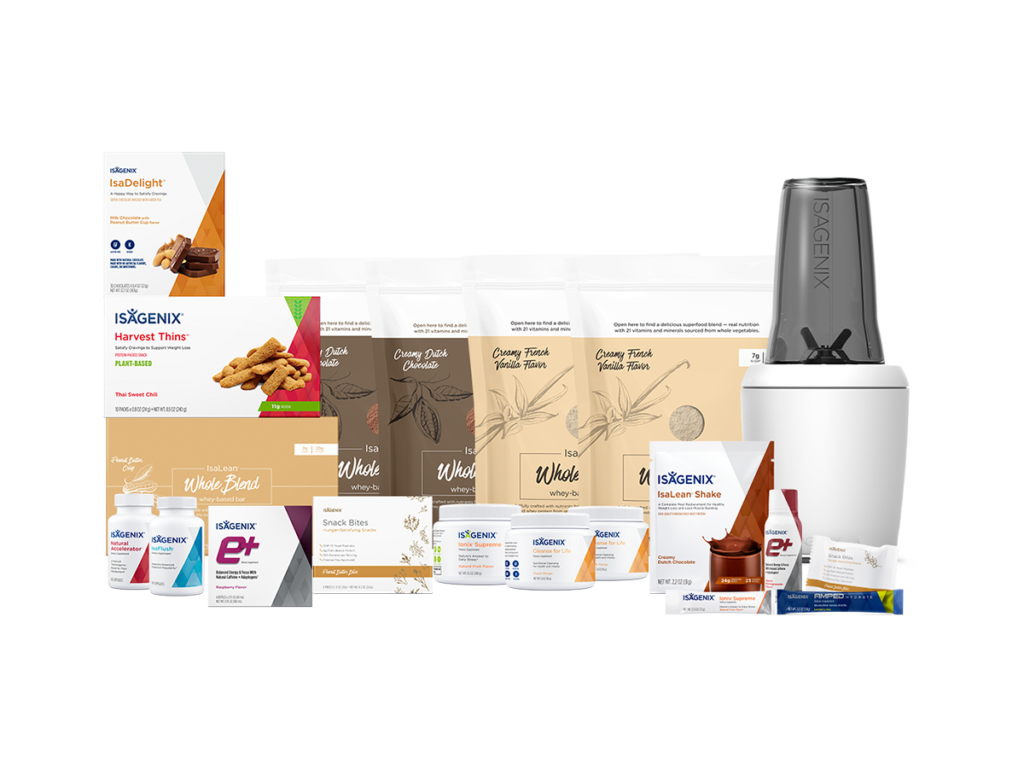 IsaLean® Shake
A delicious superfood meal replacement with high-quality protein and essential nutrients.
Cleanse for Life®
Nutritional support for your body's natural detox systems — an absolute must for Cleanse Days!*
Ionix® Supreme
Botanical adaptogens and rich nutrients to combat the negative effects of stress.*
5-Piece Sampler
Try and share five pieces of our favorite Isagenix products.
e+™
A long-lasting, flavorful energy shot made with naturally sourced, plant-based caffeine and adaptogens.*
Isagenix PROMiXX™ Blender
Powerful performance, elegant design, and easy to use for a perfectly blended shake.
IsaLean Bar
A delicious, nutritious, and easy meal on the go. Available in many different flavors and plant-based options.
Whey Thins™ or Harvest Thins™
Tasty and crunchy protein-packed snacks in convenient 100-calorie individual packs to satisfy cravings.
UPGRADE TO Snack Bites
Conveniently packaged cookie dough bites designed to stop cravings before they start.
IsaDelight® Super-Chocolate
Individually packaged chocolates with green tea extract, amino acids, and antioxidants to help satisfy cravings.
Natural Accelerator™
Boosts metabolism to help you burn fat with cayenne, green tea, and cocoa seed to support thermogenesis.*
IsaFlush®
Cleansing herbs and minerals to aid in digestive regularity and overall health.*
* These statements have not been evaluated by the Food and Drug Administration. These products are not intended to diagnose, treat, cure, or prevent any disease.
REAL RESULTS WITH ISABODY CHALLENGE