This week, we're offering free membership to all new Customers who join Isagenix with an initial product order of 150 BV or more. BV is a point value assigned to each product and can be found in the Isagenix Product Catalog or near the product price (catalog or website) when you place your order.
Share this news about free membership with your friends so they can save US$29 on an entire year of Isagenix membership. If you are a Customer helping someone get started with Isagenix, you can earn US$10 to US$300 in product coupons that you can apply to any of your future orders!
How to Earn Product Coupons
Isagenix thanks all of its Customers with Product Introduction Rewards for referring their friends and family members to Isagenix and helping them achieve their health and wellness goals. What's even better is there is also an opportunity to earn Double Product Introduction Rewards for sharing two or more of those qualifying systems in the same commission week to double the product coupon value!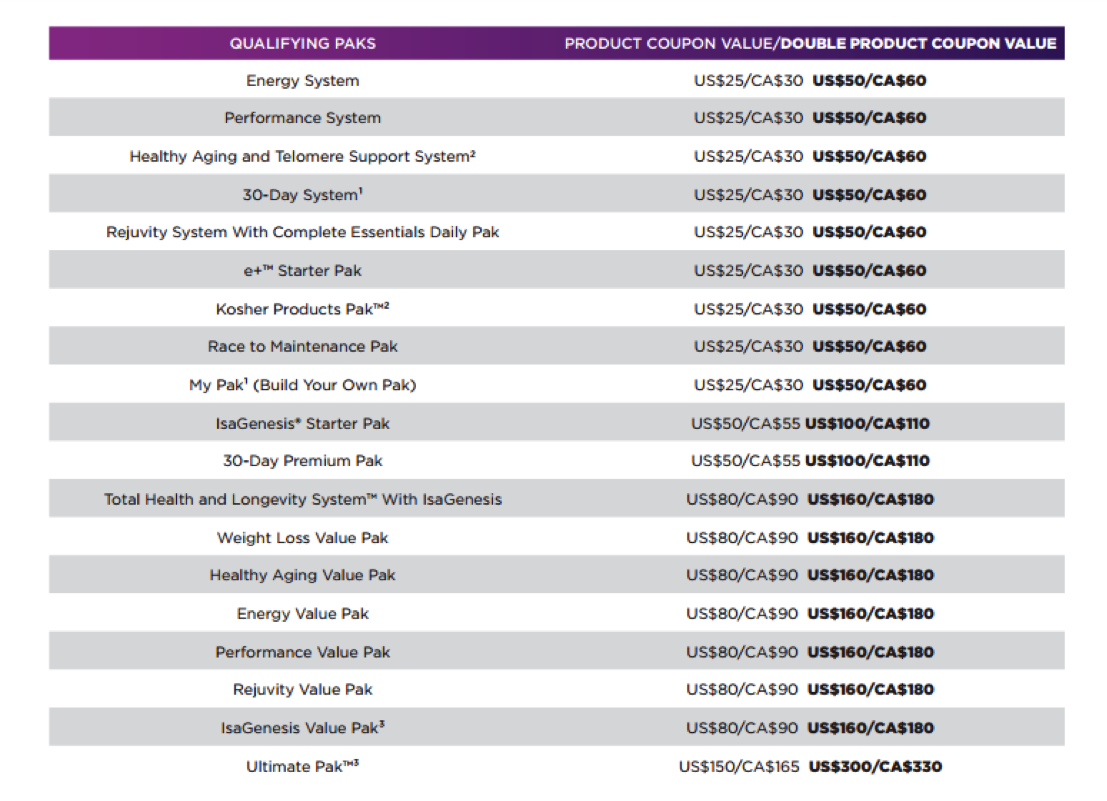 For example, let's say you help a friend join Isagenix with a qualifying 30-Day System. As an Isagenix Preferred Customer, you will automatically earn a US$25 product coupon to use on a future order. If you refer another friend to Isagenix with a 30-Day System in that same commission week (Monday through Sunday), not only will you earn another US$25 product coupon, but both coupons will be doubled to US$50 each. That means you will have a total of a US$100 credit to use on a future order! All product coupons will be loaded in your account within 10 business days of the new Member joining Isagenix.
Want to Earn a Commission Instead?
If at any point you are interested in earning a Product Introduction Bonus rather than a Product Introduction Reward coupon, you may do so by becoming an Associate. Customers can become Associates at any time by logging in to your account, selecting the "Pathway to Associate" button, watching a brief introduction video, providing required information, and agreeing to the Isagenix Terms and Conditions. If you have a new Member join in the same commission week, you can convert your account to Associate, and you will earn a Product Introduction Bonus instead of a Product Introduction Rewards coupon.
For more information on Product Introduction Rewards or how to become an Isagenix Associate, refer to this helpful "Pathway to Associate" video, or contact Customer Care at 877-877-8111.
*Free Isagenix membership is automatically applied to qualifying orders placed from Oct. 9, 2017 (12:01 a.m. ET) to Oct. 15, 2017 (11:59 p.m. ET). To qualify, a new Customer in the United States, Canada, or Puerto Rico must place an initial product order of 150 BV. Qualifying, new Customers who select a system or pak including Membership in their initial product order will receive a US/CA$29 discount instead.
The post Product Coupons & Free* Membership Promo! appeared first on IsaFYI.
Powered by WPeMatico