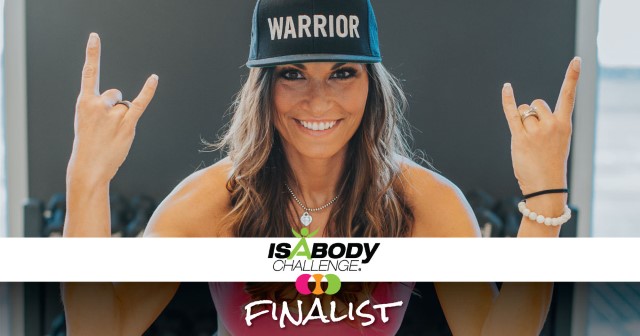 Melody Faulkner's life was completely turned upside down when her husband, Ben, unexpectedly passed away, two weeks before they were supposed to complete their first IsaBody Challenge® together. Overnight, Melody became a single mother to her two little girls but was determined to complete her Challenge, even while healing a broken heart.
Before finding Isagenix and joining IsaBody™, Melody was traveling a lot for work and developed a bad habit of eating poorly while on the road. She was working out regularly but not focusing on nutrition.
"I always thought I could outrun a bad diet," she said.
After having her two daughters, she felt hopeless and didn't think she would ever have time to get to the gym.
Beginning the Transformation
Shortly after giving birth to her second daughter, Melody visited her friend Vanessa. When Vanessa opened the door, Melody noticed she was 25 pounds lighter than the last time she saw her. She told Melody she and her husband, Mike (a 2016 IsaBody Finalist), were using Isagenix products, and Melody immediately asked Vanessa to help her get started with Isagenix.
"I was like, here's my credit card. Sign me up," Melody said. "I knew Vanessa was a nursing mom as well and didn't have time to work out."
Melody went home, excited to tell Ben about Isagenix. Ben agreed to try Isagenix with her, and they decided to participate in the IsaBody Challenge together. "I was shocked; I thought he would never do this," Melody said. "We were couch potatoes. He wouldn't go to the gym."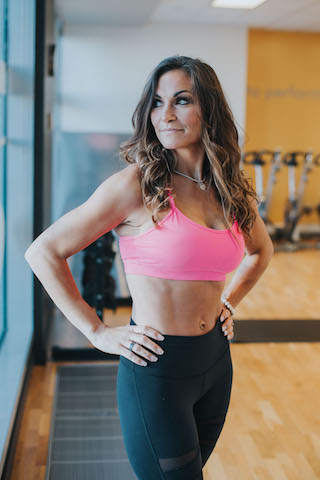 Because Melody was nursing, she was unable to use several of the products and completed her IsaBody Challenge using the IsaLean® Shakes, IsaLean Bars, and Whey Thins™.* Soon after starting IsaBody, both Ben and Melody noticed a physical transformation and mental transformation, but most importantly, they noticed a transformation within their marriage. With two infants to raise, they lost sight of their relationship for awhile, and IsaBody was the gift that brought them back together.
"It changed our whole family dynamic," Melody said. "We were finally doing something together, motivating each other and checking in."
Pushing Through Tragedy
As the weight came off, Melody and Ben developed newfound energy and were able to do things they previously couldn't. They took a family trip to Disney World and had the endurance to walk the entire park with their two daughters. But a few days after they returned from their vacation, Ben passed away.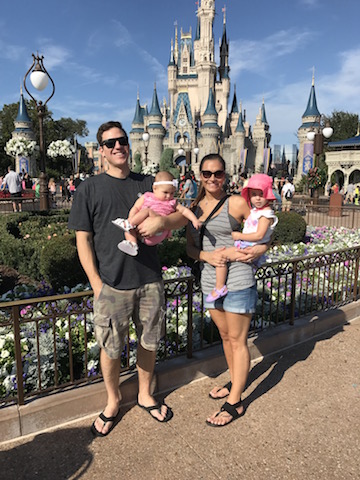 Melody turned to the Isagenix community, discovering unconditional support that helped carry her through the immense grief she was experiencing. Melody's mantra became, "This will not be for nothing. I will find a way to share this story, this message of hope."
Always a supportive husband, she knew that Ben would want her to complete her Challenge. Since he passed, Melody prayed daily that she would become an IsaBody Finalist. Her prayers were answered when she received the call in April that she had qualified as a finalist.
Creating a Legacy
When Melody started IsaBody, she set a goal to lose 25 pounds.* She reached that goal through proper nutrition and Isagenix products, along with regular workouts at the gym.
Now, she uses her IsaBody transformation and finalist status to help grow her Isagenix business, with the goal in mind to create a legacy for her two daughters. As a newly single mom, she is grateful for Isagenix because it provides her with a way to earn a living while being able to stay home and raise her daughters. She also enrolled in a 200-hour yoga teacher training program and has been using yoga to help herself heal from the loss of her husband. She hopes to inspire others with her yoga teaching while sharing Isagenix.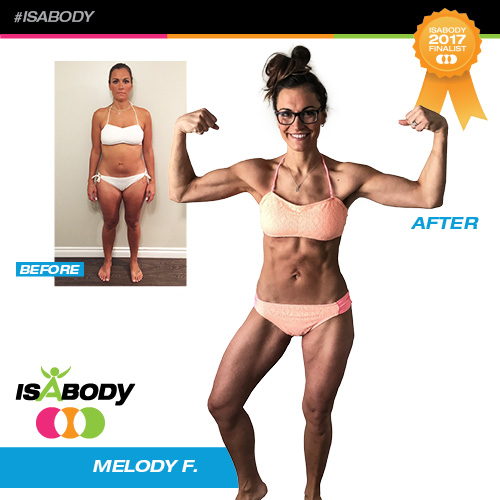 "It's all about building a beautiful and meaningful life," she said. "I can't help but think that Ben is looking over us."
If you are pregnant, nursing, diabetic, on medication, have a medical condition, or are beginning a weight control or exercise program, consult your physician before using Isagenix products or making any other dietary changes or attempting to lose weight.
*Results not typical. Weight loss, muscle gain, lifestyle, and other results depicted here reflect exceptional individual experiences of Isagenix Customers and should not be construed as typical or average. Results vary with individual effort, body composition, eating patterns, time, exercise, and other factors, such as genetic and physiological makeup. In a two-phase study performed from 2015-2016 by Skidmore College in New York, researchers evaluated use of Isagenix products for weight loss. As part of the weight-loss phase, the participants took part in a calorie-controlled regimen of Shake Days and one Cleanse Day per week and lost an average of 24 pounds after 12 weeks. View the study results.