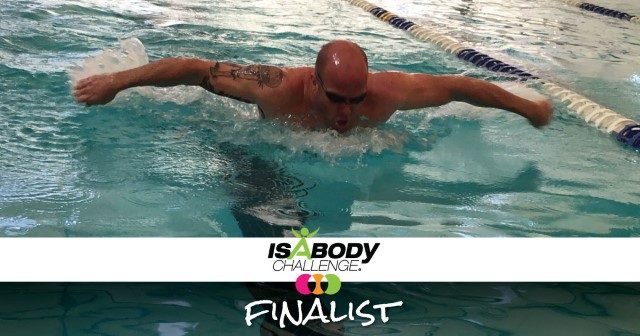 An avid swimmer since childhood, Phil Reget's life became unmanageable when he developed an addiction to alcohol and hit a low that caused him to quit swimming.
"I chose drinking over fitness, and that's when the downward spiral began," he said.
Phil eventually found sobriety but switched addictions from alcohol to sugar and food. He ended up weighing in at 280 pounds.
Getting Committed
During early sobriety, Phil started swimming again after having given it up for 11 years. However, he was self-conscious showing up to practice with the extra weight he had gained. Phil was introduced to Isagenix and began using the products in an effort to lose weight, but he wasn't consistent. He would take the products for a few weeks, notice a change, and then go back to his old ways of drinking sugary soda and eating fast food and candy bars at night.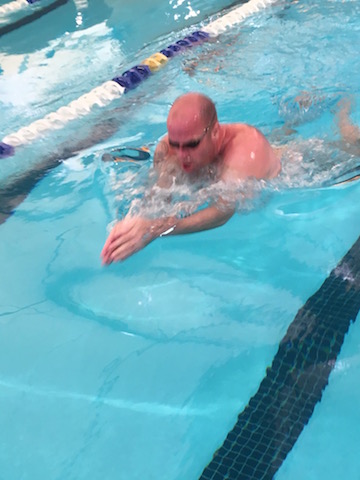 Phil got to a point where he realized he needed to be fully committed to getting healthy, and as part of that commitment, he set a goal to swim 100,000 meters in one month. He surpassed that goal in February of 2016, actually swimming 100,100 meters – almost 63 miles!
Prior to deciding to swim 100,000 meters, Phil discovered the IsaBody Challenge® and joined right away. He was drinking IsaLean® PRO Shakes regularly, and incorporated the AMPED line into his training. He noticed his weight decreasing and his confidence returning. He was so successful with his first IsaBody Challenge that he received an honorable mention!
Challenges and Competition
Phil's goal with his first Challenge was weight loss. For his second Challenge, he focused on physical fitness. In addition to swimming, Phil lifts weights and does cardio at the gym. He changed up his gym routine in an effort to add lean muscle. He says the biggest challenge he needed to overcome with IsaBody™ was the overall lifestyle change. He went from living a sedentary lifestyle and eating unhealthy foods every day to getting up early and training from 5:30 to 7 a.m., then going to work as a full-time massage therapist, dedicating an average of seven hours a day to his job.
Inspired to get back into competitive swimming, Phil swam in his first National Championship swim meet and received two top 10 finishes! He brought his massage table to the meets he was competing in and would give massages to the other swimmers when he wasn't competing. One swimmer he worked on invited him to swim and work at the Rowdy Gaines Masters Classic in Florida. This was an exciting opportunity for Phil and a huge honor for him to be able to support Rowdy Gaines and several other Olympic-level swimmers at the event.
Creating Confidence
As an IsaBody Honorable Mention in 2016 and a Top Achievers 2017 Finalist, Phil found a huge boost in confidence. He says he can now look in the mirror and tell himself "I love you," which just a short time ago he was unable to do.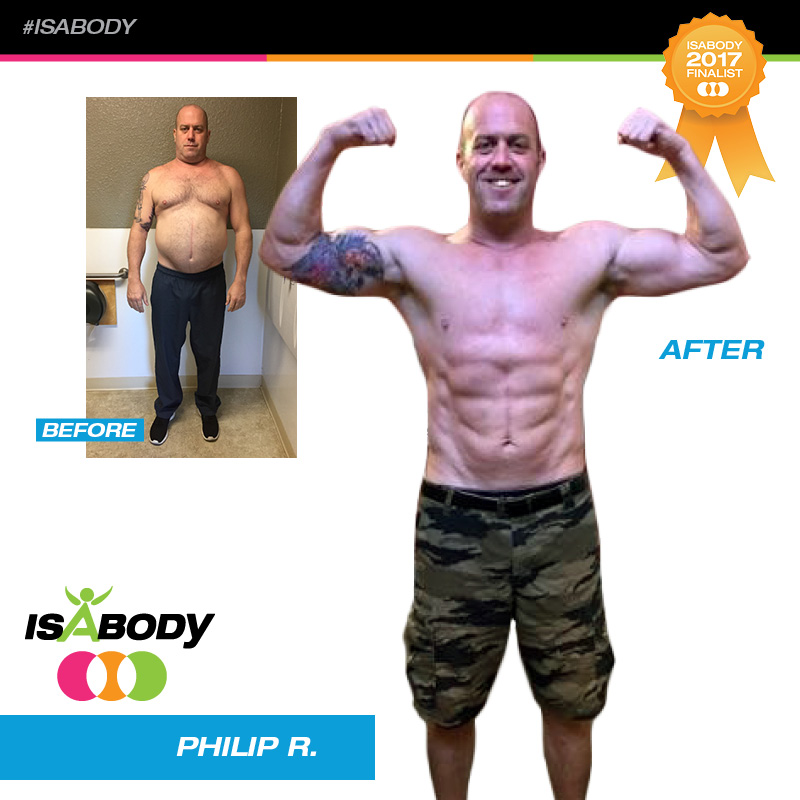 Since the announcement of the 2017 IsaBody Finalists, many people have reached out to Phil asking him how he achieved his results. He stresses to them the importance of learning about proper nutrition as well as working out regularly and staying active.
Looking toward his future, Phil's finalist status has launched him to another level. In addition to helping others transform physically, he hopes to start building more of an Isagenix business.
"I'm fired up about helping people get healthy, both mentally and physically," Phil said.
His other future goal? To work as a massage therapist at the 2020 Olympic Games in Tokyo.
"Without Isagenix, the life I have today would not be possible," Phil said. "My life is absolutely thriving!"
*Results not typical. Weight loss, muscle gain, lifestyle, and other results depicted here reflect exceptional individual experiences of Isagenix Customers and should not be construed as typical or average. Results vary with individual effort, body composition, eating patterns, time, exercise, and other factors, such as genetic and physiological makeup. In a two-phase study performed from 2015-2016 by Skidmore College in New York, researchers evaluated use of Isagenix products for weight loss. As part of the weight-loss phase, the participants took part in a calorie-controlled regimen of Shake Days and one Cleanse Day per week and lost an average of 24 pounds after 12 weeks. View the study results.