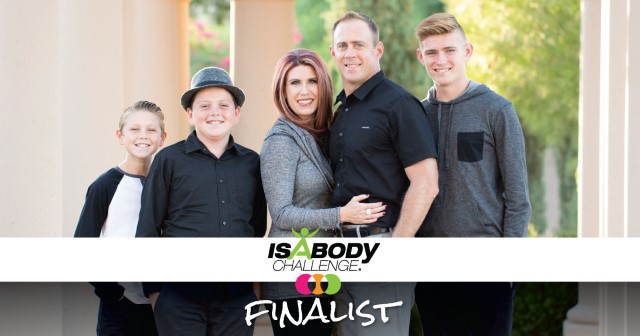 When John Jury was 35 years old, his heart went into atrial fibrillation, and it had to be shocked back into rhythm. This incident launched John into a debilitating state of fear, causing him to lose sleep over his health and his finances. At the time, John was working in the declining automotive industry, and overnight, his income was cut in half. He still worked full time and also took on extra work delivering papers at night. Exhausted and out of shape, John wasn't sure how to turn his life around for himself, his wife, and their three sons.
John ended up shifting gears and taking a job as a business consultant for auto repair shops, requiring him to travel a lot. But even though he had a different job, John still felt stressed and paralyzed by fear. He felt unhealthy and knew he needed to make a change.
"I didn't want to be that sick dad anymore," he said. "I wanted to be an active father, stay healthy, and be an active husband for my wife."
Taking on the Challenge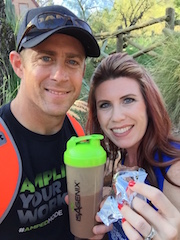 John's wife, Jesi, had previously taken a 9-Day System, so she knew about Isagenix. When she saw him struggling with his health, she encouraged John to try the products. John took the products for about a year and noticed a mind and body improvement. After learning about the IsaBody Challenge®, he asked himself, "Why am I not doing this?"
His first Challenge was all about nutrition.
"I was 100 percent into the nutrition, but I was only about 50 percent into working out," John explained. "My mindset was only about 50 percent there."
John lost weight,* but since his mindset remained the same, he didn't achieve the results he wanted. He threw out his back during the maintenance phase of his first Challenge and ended up two pounds heavier by the final weigh-in. When he discovered his weight gain, he wasn't happy.
"That sort of stoked a flame in my belly to take this seriously," he said.
#BeastMode4Banff
John did get serious about his next Challenge, tapping into the IsaBody Facebook group, setting goals, and hitting the gym. The hard work paid off when he was named an IsaBody™ Honorable Mention for the New Year Kick Off 2017 judging period, showing him how hard he could push himself.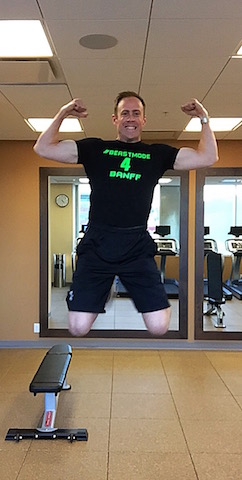 He knew that the Top Achievers trip would be in Banff, Alberta, so he set a goal to be able to attend. He also wanted to be able to take his wife on an amazing trip.
"I wanted to take my queen to her castle," he said.
John knew that one of the only ways to get to Top Achievers in Banff is to qualify as a finalist, and he was determined to get there. He even made shirts with a hashtag he created: #BeastMode4Banff.
Getting into beast mode worked, and John received the call that he qualified as an IsaBody Finalist. His family is his reason for creating his transformation, and they have been supporting him since day one; he hopes his three sons will see him walk the stage at Celebration.
Building His Body and Business
Because his job requires him to travel, John is typically on the road 12 weeks out of every 16-week Challenge. To stay on track with his progress, he brings IsaLean® PRO Shake and AMPED™ products with him, consuming about seven meals a day: three shakes, two snacks, and two regular meals. He also makes sure to fit in workouts while traveling.
"Hotel gyms have limited equipment, but they usually have 5- to 50-pound dumbbells, so I set my workouts around what's there," he said. "I work with I have and don't complain about what I don't have."
John observed that many people in his industry tend to be overweight, so he hopes to be an example and show them it's possible to stay healthy while on the road.
"The average dad can become an extraordinary dad, businessman, and attentive husband while still on the road," he said.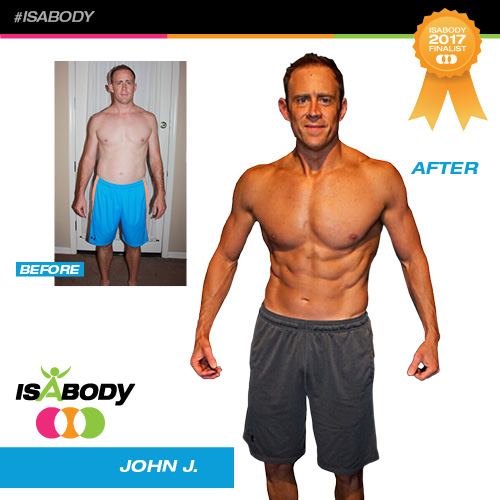 John and Jesi are focused on building their Isagenix business – something that helps keep them connected while he travels.
"We talk, and I help with our Back Office. We're always working together," he said. "That'swhat I've actually loved about this business. I have a tagline that says 'Isagenix made it safe for this dad to dream again.'"
Looking toward his future with Isagenix and his family, John hopes to impact the lives of others through his IsaBody experience and to grow their business by focusing on creating Consultants, Managers, and Executives.
"We want to help people come along for the ride with us," he said. "We want to help mentor growth."
*Results not typical. Weight loss, muscle gain, lifestyle, and other results depicted here reflect exceptional individual experiences of Isagenix Customers and should not be construed as typical or average. Results vary with individual effort, body composition, eating patterns, time, exercise, and other factors, such as genetic and physiological makeup. In a two-phase study performed from 2015-2016 by Skidmore College in New York, researchers evaluated use of Isagenix products for weight loss. As part of the weight loss phase, the participants took part in a calorie-controlled regimen of Shake Days and one Cleanse Day per week and lost an average of 24 pounds after 12 weeks. View the study results.