A Breakthrough in Better Gut Health
---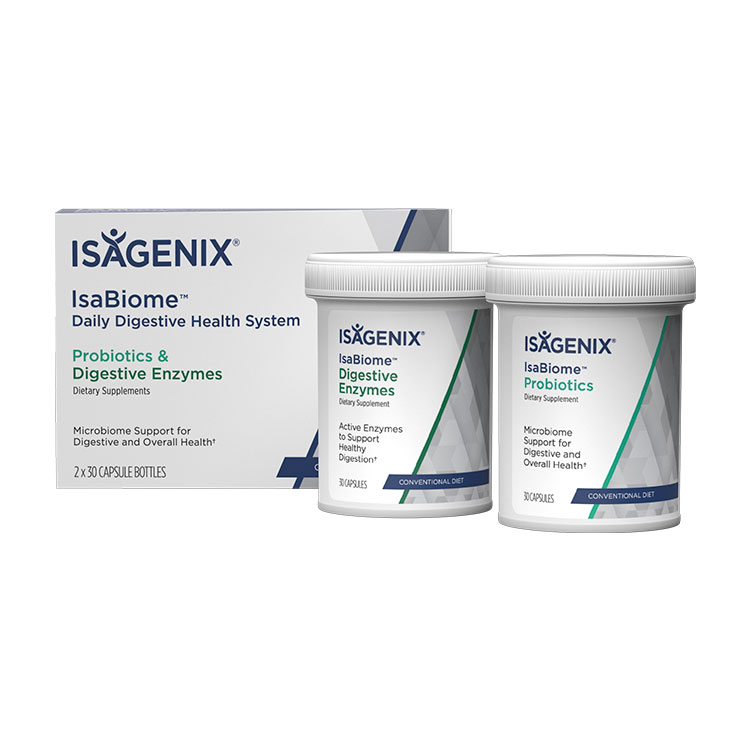 Why You Need IsaBiome
The gut microbiome is the next frontier in health and nutrition. It affects everything: digestion, metabolism, weight management, immune support, and even your brain! You need a strategy to support and nurture your microbial diversity if you truly want to optimize your health. We've all heard "we are what we eat," but even more important is how we utilize what we eat. Good nutrition and IsaBiome can help keep your gut on track so you can achieve what you want.
A Complete Solution
Many companies offer digestive enzymes and probiotics as separate products addressing separate needs. But Isagenix formulated these two unique products to complement one another for an immediate and long-term total digestive health solution. Each product delivers amazing digestive benefits on its own, but together, they deliver results unlike anything on the market.
Probiotics – Better Biodiversity and Potency
What you eat is the No. 1 influence on your microbiome, which is why IsaBiome Probiotics are designed with a diversity of scientifically supported strains. Our probiotics feature 25 billion colony-forming units (CFUs) per serving with 11 strains.
What does that mean? A more robust biodiversity of friendly bacteria to promote better gut health.*
Targeted Enzymes To Break Down Food
You'll experience immediate results when you use IsaBiome Digestive Enzymes. The formula includes 15 different enzymes to help break down food, boost nutrient absorption, and help ease occasional gas and bloating.*
No Refrigeration Required!
We take extra care of our probiotic strains to guarantee the highest-quality product that's fully functional for maximum potency. That's why we have the IsaBiome 3-Stage Viability Guarantee so you'll never have to refrigerate your product. With microencapsulation manufacturing, advanced moisture- and humidity-minimizing bottle technology, and stomach acid-resistant capsules for targeted delivery to your intestinal tract, every step of the IsaBiome system ensures peak viability and effectiveness.
Advanced Packaging
No expense was spared to ensure the IsaBiome bottle and capsule technology are the best in the market. The bottles use moisture-removing technology every time you open and close the cap to ensure the probiotics and enzymes don't activate before they reach your gut. The enzyme capsule is fast-dissolving so it works quickly to digest food in your stomach, while the probiotic capsule is acid-resistant to help the probiotics survive the stomach acid to reach your gut, where they go to work.
*This statement has not been evaluated by the Food and Drug Administration. This product is not intended to diagnose, treat, cure, or prevent any disease.